I am desperately hankering for any kind of meat due to almost two years as a strict vege, so the title seemed fairly appropriate for this massive, chunky post compiling EVERYTHING I need to buy for the new term/fashseason so I can sort it all out in my brain. I may be putting all my posts in one basket but hey, it's almost a military operation plan to enter the shopping jungle and avoid spending my whole loan at once. I have ze plan though. Thanks to the lovely ask.com/metro people I don't need to buy a laptop, therefore can spend the £400-£500 I would have spent on clothes instead!! Genius I believe.
So new layout, new season. Clothes wise, I'm trying to avoid expensive items so am searching for accessories to bulk up the winter wardrobe. But something ombre (or tie dye in my eyes) has to happen. Topshop help me out? Because it's not the kind of thing you'd find in a midnight ebay hunt or random charity shop, I'll scour Mango and Zara for more adventurous euro fashion. Shoes could be an easy way out though.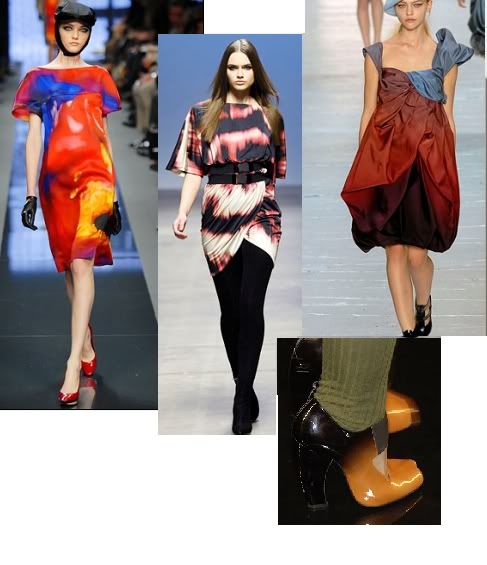 I'll try to hold off and get some ugly, block ankle boots as the staple winter shoe because they seem sturdy enough to last the months and stomp down the corridors. I'm not sure how flattering they'd be calf-wise but they're probably more so than flat brogues that cut off at the ankle?
Due to vege-ness and in general grossness too, fur always seems a bit risky. I've got a few fur coats from charity shops that I've never actually worn because there's never an appropriate time in my dinner party lacking life but maybe a fur tail á la Mr Style Bytes or draping shawl á la hot facehunter guy could be a bonus to a Monday morning hangover outfit. Faux of course. I'll just cut a big chunk out of an old coat!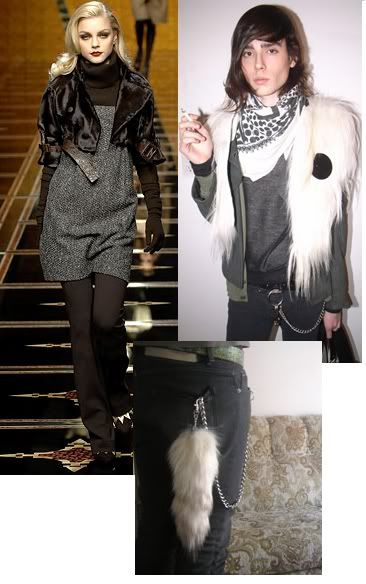 It's probably not practical to spend £50 on socks but what are you without those Prada stockings?! Selfridges is calling...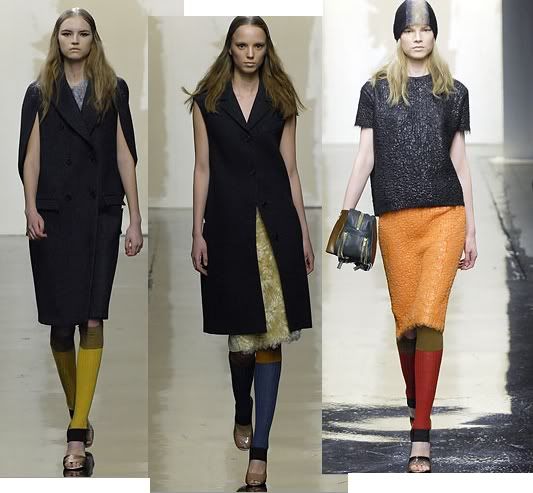 I saved these to pictures because the colours are exactly what I'm planning on buying things in, minus the pink lipstick in the second photo as it's seriously not my colour. Kind of swampy mixed with space cadet.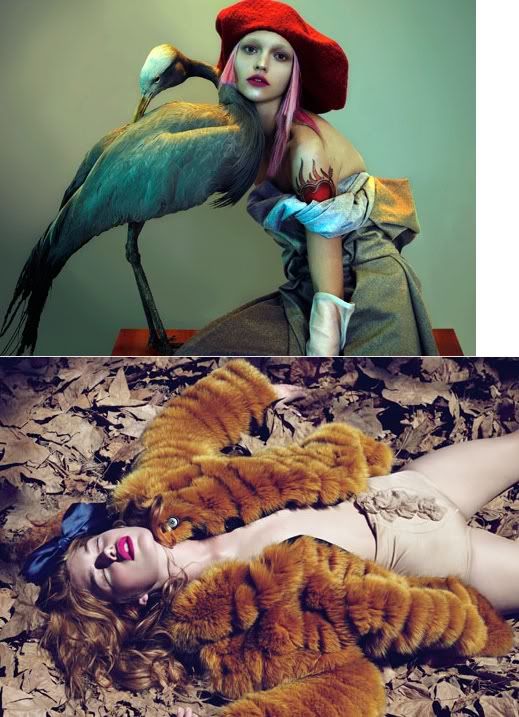 Somehow wearing leggings as trousers has really caught on. It's the kind of thing that if you told random indie girl a few months ago she'd be wearing just leggings like her mom in the 90's on a biking holiday she's reel in horror and throw her frapp in the air. But people think it's ok. Even with perfect legs/butt it's really not! I don't want to see that! Now leather leggings are blowing my mind because they're not thin like tights but they are super figure hugging. Maybe for a club they could be minorly appropriate. No what am I saying, they're not! Random cool face hunter and sss girls may look amazing but we all know that in our dull towns style hunter blog people don't really exist!!!! Well the moral of this story was I need to dig out my latex leggings again as we did have the minor fling in February until all the bondage comments started around college. Well no more sad chav college kids! University people will understand my seemingly crazy fashion choices (errrr I hope) Well at any rate they probably won't call things out?
Few people know how amazing lacy tights are... when you get a hole you can't tell!! I have a black pair that have lasted for aaaages because a little stretch in the right direction and that hole blends into the pattern! Also they have great hypnotising powers over boys. I'm on the hunt for a white pair.
Melissa works at H&M so whenever I'm in there with her the 25% discount seems extra special and I buy it all. This green jumpsuit was an impulse in a too-big size but I'm attempting to bring it back for autumn with a fat leather belt or bright platforms.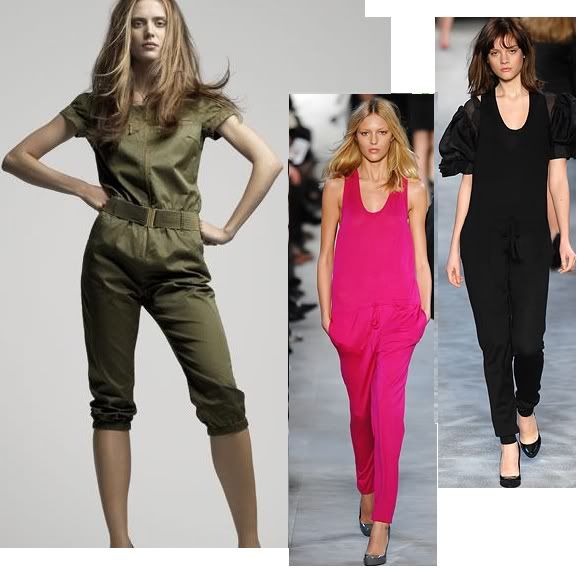 I've never bought anything from American Apparel. I can see they've hit the jackpot with the soft porn/trampy photos but £30 for a cardigan and £15 for a tshirt doesn't win me over. The ice skater dress in the face hunter pic below is rather tempting though. I've been scouring ebay for real sequined ice skater/gymnast costumes to wear over glittery tights and super high platforms for AGES! There never are any though. So the lycra AA dress with a few sequins sewn on could do the job quite nicely.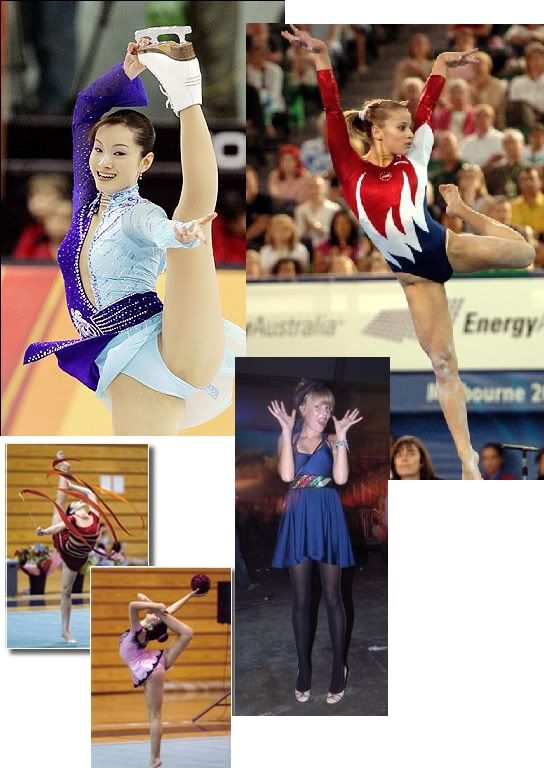 I put it down to have red and curly hair that I can't do chic minimalist very well. I've studied the satorialist but I can't wear a plain vest and skirt and look so great. Hmmmm. I still want a high waisted statement skirt though.
I really loved my high waisted jeans until I saw myself in a H&M two way mirror and hello Mexico from behind!!!! I sewed the legs into a spray-on like fashion so it took 2 hours to get them off anyway, so I stopped wearing them during the mildly hot summer. Mine are super high rather than the average ones that I sometimes see now on alot of girls that just look like strange shaped skinnys from behind. Girls from Swedish blogs like elinkan, which I don't understand but just look at their pretty photos, have started wearing them with white pumps which I never did as I felt stumpy... but with a long Stella McCartney style cardigan covering my Mexico ass I'll try bringing my jeans back!
American Apparel would probably call these muffs due to their porn loving attitude, but we'll just call them hand warmers shall we?! Hermes had leathery/furry ones which tickle my pickle (hahaha), so I'll search ebay for childlike ones which act like a necklace too!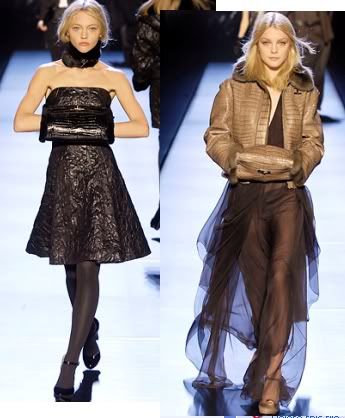 I've made loads of posts about the hats and hair pieces I've bought but I haven't really worn them very much at all. It sounds like I've been naked all summer or something but really I've been holding out until autumn to wear most of my stuff! I vow to wear them now to all their glory.
I've seen leather gloves popping up on the high street and am about to invest in the ultimate pair. I have some olive green ones from last winter which I can alternate. I might go overboard and buy loads of opera gloves to wear with dresses to clubs too.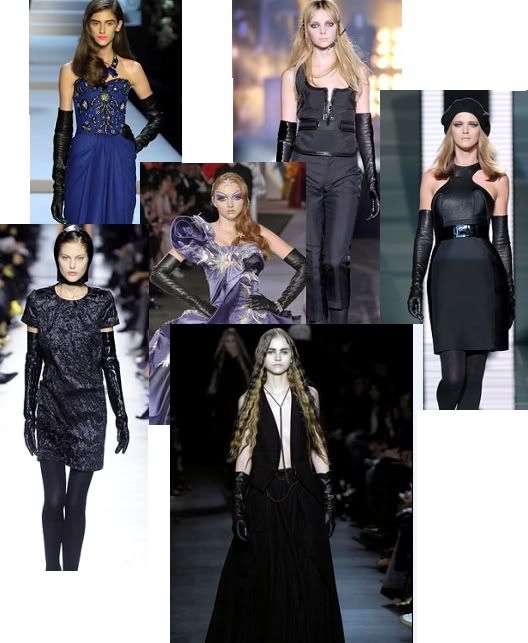 I severely regret not wearing a forehead-band to Reading but I PROMISE myself I will at the end of September! A sequin band for a club is really tempting. Off to the market ribbon shop I must go!!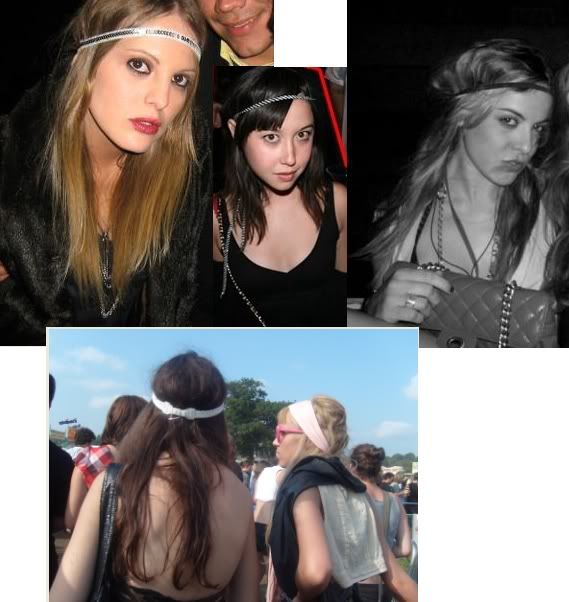 The indie crew in my old college suddenly formed last year by a few pretentious girls who wore the predictable berets and flat leather boots. Fat gold jewellery was an ironic chav statement commonly donned so I avoided it with great caution. But it's haunting me and I find myself hankering for some kind of chunky gold. Not necessarily a chain but some kind of jewellery collection. Confusing for even myself.
I'm not sure whether a clutch would be great to hold your money and phone in a club without having a bag constantly knocking you, or whether I'd put it down in the first moment and loose everything? They do look pretty handy though. How do Prada come up with these life changing items?!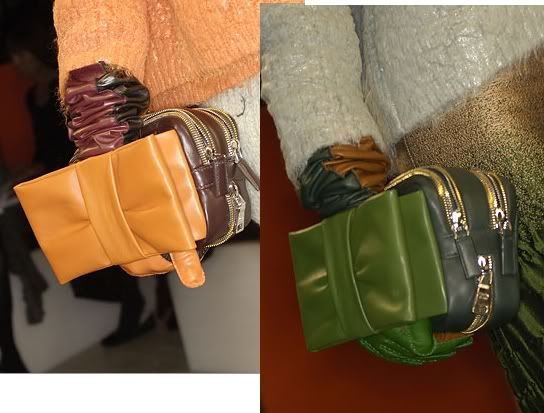 Black and cream. Simple pimple. Easy peasy lemon squeezy. Why do cream dresses look so effortlessly great with black tights? An option for the perfect first day university outfit I'm thinking.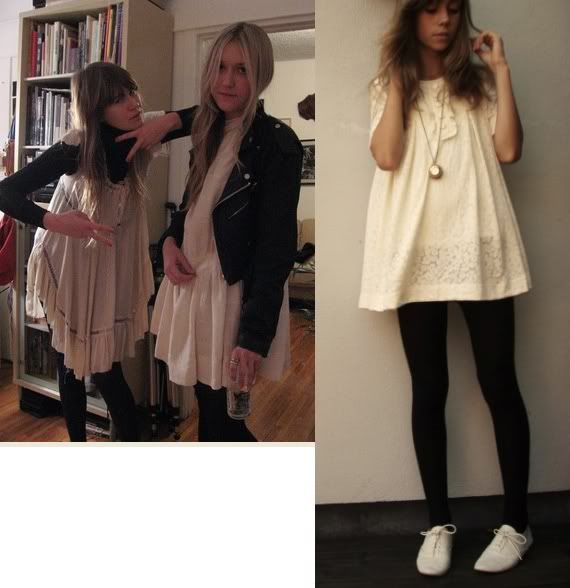 The bin bag is my new best friend. Where is the perfect bin bag dress???? It's out there somewhere and I'll probably wear it constantly all season. The hunt is on.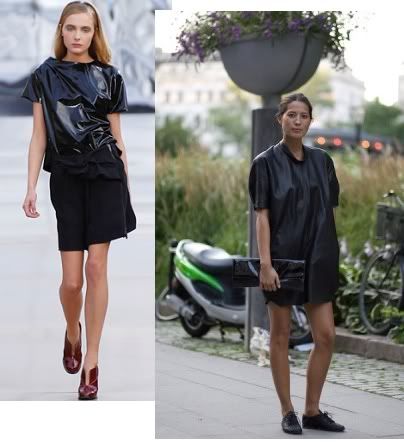 Failing the bin bag dress (which I WILL find!!!) I'll get a big fatty belt to wrap around everything and scare off small children. And maybe dogs too.

Are you still reading? This list could quite possibly be endless. I'm totally not going to afford everything but it's essential I find a GIGANTIC scarf! In winter when you walk around your outfit is hiding under a coat anyway so a big scarf can stun people constantly! Maybe if I buy five of the same scarfs I could achieve the look?
Baggy man trousers- I love you! I so want a great pair but they look weird on and I chicken out and give them back to a smirking sales assistant. I feel like little Oliver singing in the funeral parlour for his mother, but in my case tapered cropped trousers must fall from skys above!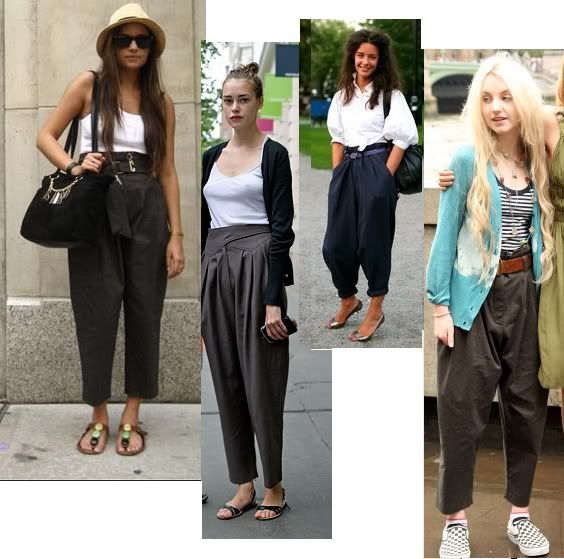 Now finally for something I can't buy. I can't buy another coat. For one thing I love my Zara coat from last year, and another its HELL to hunt for the perfect coat every year! It's much nicer than on the boring model in this picture...
Phew, I feel way more organised. Student loans will arrive in a few weeks and my debit cards are waiting in agony. I may try to persuade my mom to buy me some new stuff as my brothers and sister get new school uniform and uni is kind of like school? Feel free to steal this list!